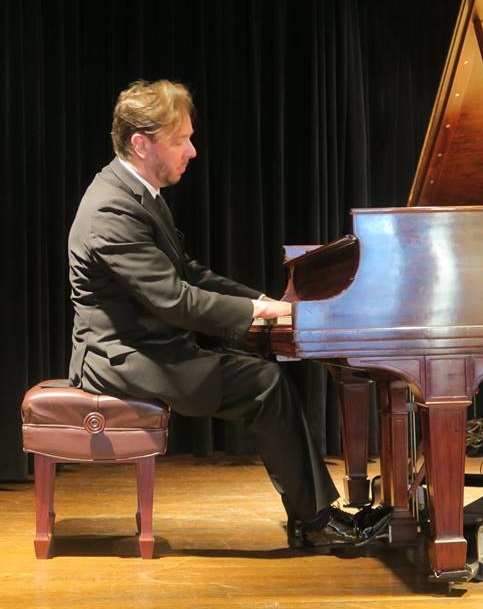 Richard Addinsell (1904-1977):
Warsaw Concerto
(from the 1941 film "Dangerous Moonlight")
Fryderyk Chopin (1810-1849):
Nocturne in E-Flat Major, Op. 9, No. 2
Polonaise in A Major, Op. 40, No. 1 ("Military")
Fantasy-Impromptu in C-Sharp Minor, Op. 66
Five Etudes
a) C Minor, Op. 10, No. 12 ("Revolutionary")
b) A-Flat Major, Op. 25, No. 1 ("Aeolian Harp")
c) F Major, Op. 10, No. 8 ("Sunshine")
d) E Major, Op. 10, No. 3 ("Tristesse")
e) C Minor, Op. 25, No. 12 ("Ocean")
Waltz in C-Sharp Minor, Op 64, No. 2
Nocturne in F Major, Op. 15, No. 1
Mazurka in A Minor, Op. 67, No. 4
Polonaise in A-Flat Major, Op. 53 ("Heroic")
This year's concert was held at the Arts Club of Washington, a beautiful venue in a historic building (former home of President James Monroe) which is becoming a favorite for our events. The pianist was Thomas Pandolfi, a brilliant virtuoso with a special affinity for the music of Chopin, whom he calls his favorite composer. I have heard Thomas on several occasions in the past, and am increasingly impressed with each hearing.
The program was all-Chopin, except for the opening number – that was Richard Addinsell's Warsaw Concerto, originally written for piano and orchestra, here performed in a solo piano arrangement by Percy Grainger. It does have a Polish connection, being composed for a 1941 British film dealing with wartime Poland: Dangerous Moonlight, retitled Suicide Squadron for its American release. In introducing it, Tom gave a most interesting presentation on the circumstances of its creation, which, entirely by design, evokes the neo-romanticism of Sergei Rachmaninoff.
Verbal presentations are a hallmark of Tom's recitals. Instead of printed program notes, he provides incisive and informative commentary on each work. Here, it was especially apropos in his introduction to the five Chopin Etudes on the program, giving a description, in layman's terms, of the technical pianistic problem posed by each. They were performed brilliantly, with a superb virtuosic rendition of the "Revolutionary" Etude, Op. 10 No. 12, leading off the set.
The program was a most pleasing panoply of Chopin's styles – from the bravura of the etudes, polonaises and Fantaisie-Impromptu to the delicacy of nocturnes, waltzes and mazurkas. The two polonaises, A Major "Military" and A-flat "Heroic," were taken at a slower, more stately tempo than I've heard from him (and most other pianists) in the past, which perfectly brought out the spirit of the dance rather than the mechanics of performance. Dances form the majority of Chopin's musical output, yet most of them are highly stylized, meant to be danced not with the feet, but with heart and soul. Tom's renditions fully conveyed the emotional content.
For an encore, Tom played his own arrangement of music from Phantom of the Opera, in a brilliant, richly textured style that brought to mind the music of Franz Liszt. All in all, a most satisfying musical experience, for which we are truly grateful.